Below is information for the Spring Swap meet.  Details for the Fall 2015 Veloswap should be similar.  More information will be posted here as it is available.    email Sean@sdvelodrome.com with the subject line "veloswap" if you would like to be put on the email list.
Vendor Information for Spring 2015 Veloswap
Online registration for sellers opens at 2PM on 3/16/15   Register  here


Online Ticketing Powered by Eventbee
The infield of our 333.3m track is the site for our swap meet. Drive-in sellers enter first, and will be directed around the track.  If you have not reserved a spot, one will be designated for you at the gate. Walk-in sellers will fill remaining spots  on the infield, and pre-registered walk in sellers will get priority over day of registrations.
12' spots are outlined around the apron.  Please note that the infield diagram below is a rough guide, and actual number spots MAY be in slightly different locations because of hazards on the infield soil, or for any other reasons. On swap meet day, the paint on the ground is king and must be obeyed.
Spots are marked by number on the map at http://sdvelodrome.com/swap-meet/vendor-info/
7 prime spots (P1-P7): available for pre-reservation only: $260 for vehicles up to 25 feet long
Full concrete spots, right at the buyers entrance (spots P1, P2, and P3 on the map). Guarantees you to be seen! No need to get an early spot in line–we've got you covered!  We have split the cooldown circle into four, huge spots for all you vendors with big vans and LOTS of stuff. 

Tier 1 spots (T1-T9): $120 for vehicles under 18 feet.   $80 surcharge payable the day of the event for vehicles over 18 feet
Spots along the velodrome's front stretch and near the entrance.  If you are driving a standard sized puckup truck with nothing hanging off the back, you may be granted a variance at the  velo swap director's discretion.
Perimter and Infield spots: $90 for vehicles under 18 feet.  $80 surcharge payable the day of the event  for vehicles over 18 feet
Numbered spots along the apron and cooldown circle, still able to get great foot traffic from thousands of buyers.
Each vehicle includes entry for TWO (2) sellers.  Additional sellers are $10 each above the cost of vehicle entry.
You may purchase the oversized vehicle  surcharge at checkout  for $80 on the day of the event.  If your entire vehicle will not fit into a 18 foot long box, you must pay this surcharge.
Walk in sellers: Walk in sellers are $15 per seller, and you will not be reserved a particular spot.   Walk in sellers fill in the non-reserved space  in the infield of the velodrome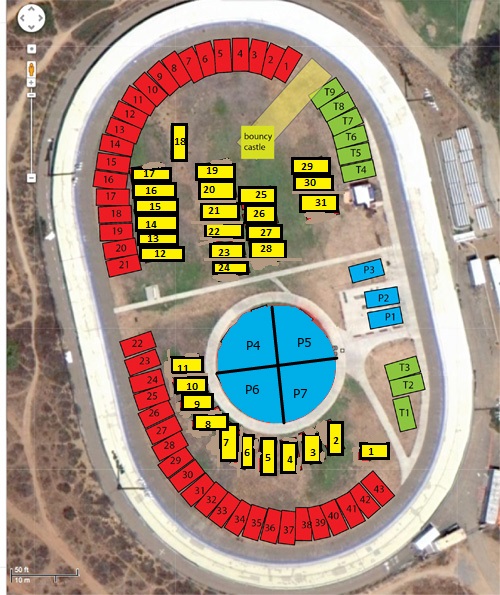 Rules
Gates open at 7AM for drive in, sellers, 8 for pre-registered  walk in sellers, and 8:15 for day of walk in sellers.
Cash only on for fees paid the day of the event
No refunds due to rain or other event
Vendors will enter and be directed in a counter-clockwise manner to the next available spot, please follow all directions
No selling food, drinks, or other consumables inside the velodrome
No selling items outside the velodrome gate. That's just rude.
No bicycles are to be locked to the velodromes boards or rail.  Price tags will be removed by staff.
All vendors must remain in designated spots on the infield.  Do not set up on the track or the apron
Obey the orange paint at all times.  It takes precedence over the map.
Orders and directions from swap meet staff take precedence over everything (even the sacred orange paint)
No riding on the track. No test riding bikes.
18′ rule includes everything and every inch of the vehicle, including trailers, hitches, bikes off the back, etc.; imagine you are in a 18′ long box
Vehicles over 25′ please make prior arrangements with swap meet director..
All vehicles must enter through gates on Pershing Drive as directed. No cutting in line.  If you do, we reserve the right to ask you to leave without a refund
Be respectful to all staff, volunteers, sellers,  buyers, humans, and other animals.   Otherwise you may be asked to leave without a refund.
All buyers must check bicycles at the bike valet.  Buyers will not be allowed in with goods.